Belmont's Top-Rated Arborist
Professional Tree Service in Belmont Since 1977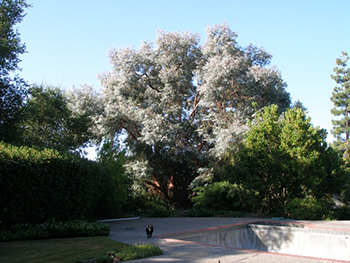 Since 1977, Neck of the Woods has performed professional arborist and arboriculture services in Belmont and across the Bay area. I'm a tree care specialist dedicated to excellence in the field of arboriculture. As an Arborist I strive to maintain and beautify the world around us whether it be residential or commercial property or the towns we live in.
I am highly qualified in the care of your valuable trees and shrubs with knowledge of the most up-to-date advances and proven age-old techniques, and educated and trained in maintaining your landscape and to help you preserve the aesthetic and ecological value of your trees and shrubs.
Why Hire a Certified Arborist?
Certified Arborists must keep abreast of new technology by attending seminars and reviewing the latest publications to obtain continuing educational units ( CEUs ) and recertification is required every three years, requiring 30 CEUs within each three year period. As an arborist, my knowledge and experience, along with state of the art equipment, allow me to perform a variety of arboriculture services safely and efficiently. Preserve the beauty that surrounds you and put your landscape in professional hands with the services of an award-winning certified arborist.
Services include:
Expert Emergency Tree Removal
Expert Hazardous Tree Removal
Expert Crane and Rigging Tree Removal
Expert Hazard Evaluation and Abatement
Expert Selective Thinning and Artistic Pruning
(Heritage Oak Trees to Japanese Maples)
Logging and Wood Milling
Expert Tree Risk Assessment
Expert Tree Selection and Tree Planting
Expert Cabling and Bracing
Arborist Reports and Tree Permit Applications
Tree Protection Guidelines
Tree Protection Zone Installation
Tree Risk Assessment & Removal Service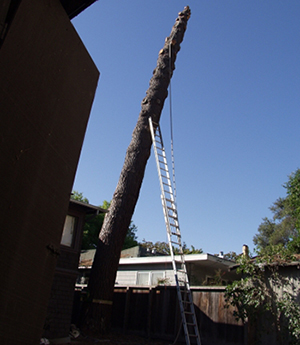 Tree risk should be assessed by an experienced arborist. As an ISA Certified Arborist since 1993, I have knowledge and experience in tree risk assessment and make recommendations for tree risk abatement. I provide tree hazard evaluations, tree hazard abatement and tree risk assessments for obtaining tree removal permits, and I am also familiar with meeting the criteria of local towns, cities and the County of San Mateo. A tree risk assessment will identify structural defects and recommend an abatement procedure to minimize a potential of failure where damage could occur to people, property, and utilities, including obstructing traffic of roadways and railways.
We handle all aspects of tree removal from a tree hazard evaluation and a tree risk assessment to arborist reports and obtaining tree removal permits. Tree removal may be necessary to abate a hazardous condition. Trees in decline, diseased or structurally unsound may need to be removed before they're completely dead for the safety of the climber and the surrounding area. A high-risk tree may have potential of failure from a portion of the tree or a risk of the entire tree failure. Risk factors are greater in urban areas where property damage can occur and high-risk trees can also be life threatening.
Belmont Tree Trimming, Pruning, and Thinning Services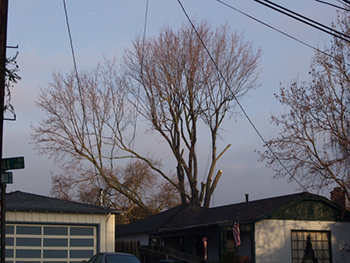 My primary emphasis is to maintain a tree's natural form while trying to obtain the objective for pruning. I carefully select where to make each cut then carefully execute that task, resulting in a very aesthetically pleasing specimen. Tree species susceptible to pests and diseases should be pruned at the proper time of the year so they're not predisposed to infestation or infection.
The American National Standards Institute ANSI A300 (part 1) Pruning is the current standard for the tree care industry. Trees physiologically respond differently to various pruning techniques. Incorrect pruning can last a lifetime and promote hazardous growth and can even shorten a trees life expectancy. Improper cuts can cause irreparable damage, creating a hazardous tree with decay and weak attachment of new growth. Your trees are an asset to your property and they contribute to our surrounding environment.
Customer Reviews
"Eddie, Thank you for an incredible tree service - above & beyond our expectations. We greatly appreciate the work you did. You are the hardest working guy we've ever met. And a perfectionist to a fault." The Rush Family, CA
"I have known Ed for many years and have had many business interactions with him. I have seen his workmanship first hand from start to finish and I believe his attention to detail and precision tree trimming in particular is second to none. He is a tremendously energetic and hard worker. I highly recommend Ed and his company, Neck of the Woods Tree Service." Kevin M. from Burlingame, CA
Fill out our online form to request an estimate for tree service or contact us directly to schedule an arborist consultation!