Portola Valley's Top-Rated Arborist
Providing the Portola Valley Area with Professional Tree Care Since 1977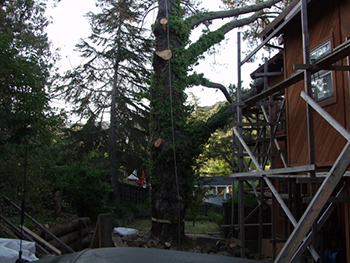 Neck of the Woods has been providing expert arborist services to the Portola Valley area for over 35 years. I'm a tree care specialist dedicated to excellence in the field of arboriculture. As an Arborist I strive to maintain and beautify the world around us whether it be residential or commercial property or the towns we live in.
I am highly qualified in the care of your valuable trees and shrubs with knowledge of the most up-to-date advances and proven age-old techniques, and educated and trained in maintaining your landscape and to help you preserve the aesthetic and ecological value of your trees and shrubs.
Tree Care From the Ground Up
Services include:
Expert Emergency Tree Removal
Expert Hazardous Tree Removal
Expert Crane and Rigging Tree Removal
Expert Hazard Evaluation and Abatement
Expert Selective Thinning and Artistic Pruning
(Heritage Oak Trees to Japanese Maples)
Logging and Wood Milling
Expert Tree Risk Assessment
Expert Tree Selection and Tree Planting
Expert Cabling and Bracing
Arborist Reports and Tree Permit Applications
Tree Protection Guidelines
Tree Protection Zone Installation
Tree Risk Assessment & Removal Service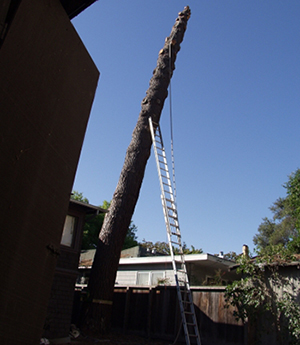 Tree risk should be assessed by an experienced arborist. As an ISA Certified Arborist since 1993, I have knowledge and experience in tree risk assessment and make recommendations for tree risk abatement. I provide tree hazard evaluations, tree hazard abatement and tree risk assessments for obtaining tree removal permits, and I am also familiar with meeting the criteria of local towns, cities and the County of San Mateo. A tree risk assessment will identify structural defects and recommend an abatement procedure to minimize a potential of failure where damage could occur to people, property, and utilities, including obstructing traffic of roadways and railways.
We handle all aspects of tree removal from a tree hazard evaluation and a tree risk assessment to arborist reports and obtaining tree removal permits. Tree removal may be necessary to abate a hazardous condition. Trees in decline, diseased or structurally unsound may need to be removed before they're completely dead for the safety of the climber and the surrounding area. A high-risk tree may have potential of failure from a portion of the tree or a risk of the entire tree failure. Risk factors are greater in urban areas where property damage can occur and high-risk trees can also be life threatening.
Portola Valley Tree Trimming, Pruning, and Thinning Services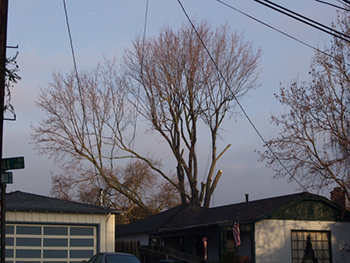 My primary emphasis is to maintain a tree's natural form while trying to obtain the objective for pruning. I carefully select where to make each cut then carefully execute that task, resulting in a very aesthetically pleasing specimen. Tree species susceptible to pests and diseases should be pruned at the proper time of the year so they're not predisposed to infestation or infection.
The American National Standards Institute ANSI A300 (part 1) Pruning is the current standard for the tree care industry. Trees physiologically respond differently to various pruning techniques. Incorrect pruning can last a lifetime and promote hazardous growth and can even shorten a trees life expectancy. Improper cuts can cause irreparable damage, creating a hazardous tree with decay and weak attachment of new growth. Your trees are an asset to your property and they contribute to our surrounding environment.
Satisfied Customers
"Had trees removed, stumps grinded and a tree pruned along with planting replacement trees. Eddie, the owner & primary tree trimmer, and his crew did an excellent job in completing the work. An Arborist report was provided and submitted which was required for a permit for one of the trees for the permit. Very good suggestions were given on replacement trees. The price was very competitive and with the added value of Eddie's overall knowledge as an Arborist, this made it even more of a value for the price.

The job site was thoroughly cleaned and left looking very attractive. Overall provided much better tree service due to his knowledge, workmanship and price than the other two tree service companies I have used in past."

Philip K. from Redwood City, CA
Fill out our online form to request an estimate for tree service or contact us directly to schedule an arborist consultation!